New addition to Kaydn's Law means stiffer penalties for drivers
September 14th, 2012 by Ric Hanson
Atlantic School District Transportation Director Dave Eckles is warning motorists about increased penalties for passing school buses that have their "Stop" arms extended, and/or lights flashing.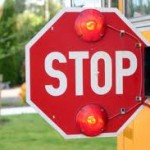 Earlier this year, Governor Terry Branstad signed into law the "Keep Aware Driving – Youth Need School Safety Act," more commonly known as "Kaydn's Law," which increased the criminal penalties for passing a stopped school bus. Eckles says last month, however, the Iowa Transportation Commission adopted an emergency administrative rule that increases the administrative driving privilege sanctions. The new law says a person caught passing a stopped school bus faces a mandatory 30-day license suspension. Previously, that was an option for the courts.
Eckles says driver's basically need to be aware of what they should do when approaching a school bus. He says if you are approaching a bus and its yellow lights just started flashing, you can't pass the vehicle if you are behind it. If you are meeting the bus just as its flashing lights come on, and the "Stop" arm is not extended, you can continue to pass, but if you are able to stop, you must do so. If the "Stop" arm on the left side of the bus is extended, you definitely cannot pass from either direction.
Eckles says they've had some instances already this year, where drivers have tried to pass Atlantic Community School District buses. He says there've been a couple of times when it's happened, but the problem remains on-going. Eckles says driver's simply need to pay attention to the road, and not their cell phones, or other distracting devices. And, he says it's not worth the time you think you're saving trying to get to work or school, by passing a stopped school bus, especially in terms of a child's life.
According to a recently released school bus driver's survey sponsored by the National Association of State Directors of Public Transportation, there has been a marked increase in the number of motorists who blow past the school bus arm and flashing red lights. The number of vehicles illegally passing a school bus during a one-day count conducted earlier this year, was 43.7-percent, as compared to 38.2-percent in 2011.