"Fields of Flight" takes MICAH House to New Heights
September 6th, 2012 by Ric Hanson
The 5th Annual "Fields of Flight" Hot Air Balloon Festival will welcome more than 20 hot air balloonists from across the country this weekend.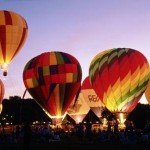 Area residents can enjoy the floating works of art as they grace the skies of Pottawattamie County on Friday, September 7th and Saturday, September 8th, beginning at 5:00pm.  The hot air balloons and their pilots will light up the evening skies at the nightly balloon glows, held both evenings.
Net proceeds from the annual event will go to purchase food for MICAH House, an emergency shelter in Council Bluffs serving families and individuals who are experiencing the crisis of homelessness. The funds will support services for more than 760 individuals annually, half of whom are children. For over 26 years, MICAH House has been a haven of shelter and support services for those who are homeless and is the only family shelter in the metro area.
Guests enjoy admission for just $1.00, $5.00 parking (per car), and fun entertainment featuring something for every member of your family including competition and fun flights, balloon glows, live music, kids activities, apples, a wide variety of food items unique to the orchard/vineyard, and wine. Spread out your blanket and enjoy a truly memorable experience in one of Council Bluffs most beautiful settings, Ditmars Orchard & Vineyard, located at 19475 225th Street.
For more information on this special event or to learn more about MICAH House, please contact Lisa Emken at 712-323-4416
* All balloon flights and displays are weather permitting.