"Mysterious Monarchs" Program to be offered at Lake Anita
August 16th, 2012 by Ric Hanson
The Cass County Conservation Board says they will be holding a "Mysterious Monarchs" program at the Main Campground at Lake Anita State Park in Anita, on August 31st.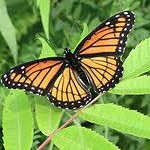 The free, public program begins at4:00 pm, and offers you a chance to discover the Monarch Butterflies before their journey south.
Conservation staff will tag monarchs, and show you how you can do the same. If you would like a home tagging kit, you must attend and pre-register for the Kit. Call 712-769-2372 to pre-register for your kit. You DO NOT have to be a registered camper to attend the program.