Ericksen sex abuse trial continues Wednesday in Atlantic
August 28th, 2012 by Ric Hanson
Trial in the case of a Lewis man charged with sexually assaulting a 14-year old girl over a period of more than two months in 2011 continues Wednesday morning, in Atlantic. During the proceedings, officials with the Iowa Department of Human Services and child advocates from Project Harmony in Omaha, are expected to take to the witness stand. Day one of testimony Tuesday, lasted for four and one-half hours, and concluded with the alleged victim of the assaults testifying she was molested by her foster parent, 52-year old Roger Ericksen on numerous occasions from May 15th, 2011 until the day before she was removed from his home by social workers, on July 25th, 2011. Ericksen was arrested in December on two Aggravated Misdemeanor charges of Assault with the intent to commit Sexual Abuse, two counts of Lascivious Conduct with a Minor (A Serious Misdemeanor), and 46 Class-C felony counts of Sexual Abuse in the 3rd degree.
In opening statements, Ericksen's attorney, Theodore Wonio, said the alleged victim was someone who had a "rough, rough life."  He said the girl grew up in an abusive Florida household.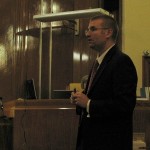 Her father died when she was very young, and she moved to Iowa to live with her mother and stepfather only to be caught in yet another abusive household. Wonio said the girl bounced around from foster home to foster home, and ended up in the Ericksen household. He says she desperately wanted a family in her life, and after her half-sister moved out of the home, was worried about losing everyone in her biological family. Wonio says she fabricated a story to get her out of foster care and potentially back to her family. He said also she's told lots of stories throughout her life.
Representing the State, Cass County Attorney Dan Feistner said there was physical evidence to support the girl's allegations, including DNA evidence on several sex toys Ericksen allegedly used in some of the assaults.
He called to the stand Cass County Deputy Kyle Quist, who filed the charges against Ericksen after a nearly four and a half-month long investigation. Quist testified he became aware of the allegations on July 25th, after he was contacted by the DHS.
Quist was one of several persons who spoke with the girl about the incidents she claims took place.  He says she "seemed to be pretty stressed," and she "never broke eye contact" with Quist during the 45-minute long interview. Quist said the girl was able to recall specific details of the incidents. And, while physical evidence in the case such as sex toys were delivered to the DCI Crime lab for analysis, Quist admitted he never took the alleged victim to the hospital to have physical examination using a "rape kit."
Kristin Baum, a DNA Specialist with the State DCI Crime Lab in Ankeny, testified some of the sex toys Ericksen allegedly used on the teen didn't have enough DNA to interpret. She compared it to a grain of salt in bread dough. Another sample "failed to produce a profile," while the third sample came back with the presence of a mixture of DNA from at least two persons, including the alleged victim. The other DNA she said could have been from fewer than one out of a dozen individuals, and further interpretation and analysis is needed.
When the alleged teenaged victim spoke, she testified the assaults began after her half-sister graduated and left the home. She said they occurred mainly at night, in her bed or Ericksen's, in a pool, and in his vehicle. They ranged from acts of kissing and fondling, to intercourse and sodomy. The now 15-year old girl was thin, spoke softly and sat mostly expressionless during the hearing. KJAN News has chosen to withhold the girl's name because she is juvenile.