Two Atlantic Women Honored for Volunteer Work
July 12th, 2012 by admin
Two Atlantic women have received an award from Governor Branstad for their volunteer work.
Jan Burmeister and Marilyn Burmeister, who are both of Atlantic, each received a 2012 Governor's Volunteer Award from Branstad during a special recognition ceremony held June 5 in Pleasant Hill.
The Governor's Volunteer Awards (GVA) program was created in 1982, honoring several hundred volunteers from across Iowa in different categories each year.
The manager of Cass County Home Care Denise Coder says both Jan and Marilyn have provided many years of service helping seniors the community and that their contributions have been extremely valuable.
Jan and Marilyn have been involved with the Senior Health Insurance Information Program (SHIIP) for 10 years.  They were individually nominated for a Length of Service Award by Cass County Home Care for assisting seniors with their Medicare questions.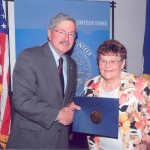 Jan Burmeister with Gov. Branstad