Heat advisory for most of Iowa, heat warning for northern Iowa
July 3rd, 2012 by Ric Hanson
The National Weather Service has issued a four-day-long "excessive heat advisory" for most of the state and parts of northern Iowa are under an "excessive heat warning."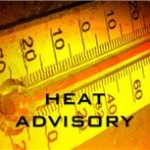 The Advisory runs through 7-a.m. Saturday, for all but the far west and southwest counties, where a separate Heat Advisory is in effect from Noon today through 8-p.m.  That includes Monona, Harrison, Shelby, Pottawattamie, Mills, Montgomery, Fremont and Page Counties. Heat indecies are expected to climb to around 105 degrees or higher this afternoon in those counties, and from 100-to 105 for the rest of the area. 
Meterologist Kevin Skow works in the National Weather Service office in Johnston. He says "This is an unusual situation where we've had a very persistent high pressure system over us that's pumping up a lot of heat from the south."  This prolonged period of super-high temperature readings during the day is happening because things cannot cool down overnight and Skow says it's due to a "very moist" air mass hovering over the state. "It takes more energy for water vapor to cool off and since it's so moist, the air just simply can't cool off overnight as much as it could, say, in the springtime when we usually have drier air over us," Skow says. Smoke from the Colorado wildfires has drifted over Iowa, but experts say it won't cause health problems.
"The smoke is really high in the atmosphere," he says. "It's up at 20,000-30,000 feet and the only effects that Iowans will really see from it (are) generally some hazier skies and some redder sunrises and sunsets." By eight o'clock this morning (Tuesday), heat index readings across the state indicated it already felt like it was 80 degrees in most locations. On Monday Nebraska's governor declared a state of emergency in his state due to drought conditions there.