Fly Iowa in Atlantic Facebook page released
July 8th, 2012 by Ric Hanson
The Atlantic Area Chamber of Commerce has announced the Atlantic Fly Iowa marketing committee has released a Facebook event page on AtlanticIowa.com with details regarding the September 15th Heritage & Homecoming Atlantic Fly Iowa Air Show.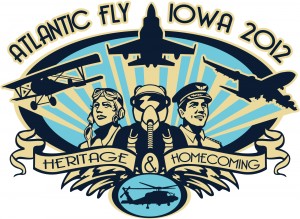 According to Fly Iowa Chair Garry Pellett, the performers at the Air Show will be "phenomenal," and the Committee needed a way to share information with the public prior to the event, to help drum-up excitement, and preview the types of acts the public can expect to see. 
The website can be found at AtlanticIowa.com in cooperation with the Atlantic Area Chamber of Commerce information, under the Visiting Atlantic section. There is a special place for the Atlantic Municipal Airport information where the Fly Iowa details have been added. Pellett says four or five P-51 Mustangs will be at the Air Show. The aircraft are well known for their performance, and helping turn the tide in favor of the Allies, during World War II. Pictures of the Mustangs are available on the Facebook event Page for Fly Iowa as well as details that are being released weekly on the other performers also. Pellett says there will also be a comic aerobatic pilot and some unique, static display items. 
Find the page online at AtlanticIowa.com. For more information regarding Fly Iowa call 712.243.3017 or email chamber@atlanticiowa.com.