Iowa high court backs MidAmerican's wind expansion
June 8th, 2012 by Ric Hanson
IOWA CITY, Iowa (AP) – The Iowa Supreme Court is giving the green light to a major wind energy expansion by the state's largest public utility.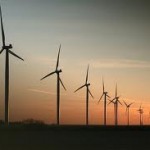 The court today (Friday) upheld a 2009 decision by the Iowa Utilities Board that guaranteed MidAmerican Energy could raise customers' rates in the future to pay for a huge wind energy project set to be completed this year. The court rejected a challenge by NextEra Energy Resources, a rival who argued MidAmerican didn't demonstrate a need for extra capacity and didn't properly consider other alternatives. In a 5-0 ruling, the court says the board's decision was based on "substantial evidence" the expansion would reduce emissions, diversify the fuel supply, promote economic development and maintain reasonable prices for customers. MidAmerican spokeswoman Ann Thelen says the company is pleased with the ruling.
 
MidAmerican says it owns the most wind-powered capacity among the nation's rate-regulated utilities. Among its area projects, are: The Adair Project in Cass and Adair Counties, producing 174.8-megawatts (MW) of power; The Eclipse Project in Audubon and Guthrie Counties, producing 200.1 -mw; The Morning Light Project in Adair County, which produces more than 101.2-mw of power; The Rolling Hills Wind Energy Project in Adair, Adams & Cass Counties, which generates 443.9-mw of power; and the Carroll Project, which can produce up to 150-mw of power.
All together, there are 56 wind turbines which have been built or are in the process of being erected, in those counties. The total amount of energy generated by those turbines amounts to slightly more than 1,070-megawatts. Mid-American says by the end of 2012, all of their wind energy projects, when completed, will have the capacity to generate more then 2,284-megawatts of power. According to the American Wind Energy Association, 1 Megawatt of wind-generated power can provide electricity for anywhere from 240-to 300-households, per year.
For more information: http://www.midamericanenergy.com/wind/include/pdf/facts_iowa_wind.pdf