Cass Supervisors approve 1st reading of Illegal Dumping Ordinance
June 13th, 2012 by Ric Hanson
The Cass County Board of Supervisors today (Wednesday), approved the 1st reading of an Ordinance designed to penalize those to illegally dump refuse in County ditches and elsewhere.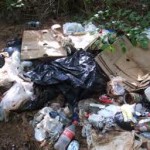 The action followed a public hearing, during which a man who works for a local trash hauling company said he was fully in favor of the Ordinance. 
The ordinance which was presented to the Board during their meeting by Cass County Attorney Dan Feistner, was tweaked for minor wording changes, but other than that was left intact. Its purpose is to prohibit illegal dumping in public places and on private property within the unincorporated areas of the County. Supervisor Frank Waters said it's really meant to get people to use the County Landfill, and discourage the throwing of appliances, tv's, building and other, potentially hazardous materials or trash, into the ditches. 
The ordinance, which is expected to be adopted following the next and final public hearing and second reading next Wednesday, says the penalties for persons who knowingly dump trash in the unincorporated areas of Cass County, will face fines ranging from $100-to $1,000, depending on the combined weight of the trash that was dumped, and the number of times the offense has been committed. The person or persons will also be responsible for the complete abatement, cleanup, removal and disposal of the items dumped.