Greenfield woman leads Live Healthy IA Dream team in hours of physical activity
May 23rd, 2012 by Ric Hanson
Officials with "Live Healthy Iowa" say the "Living Healthy Iowa Dream Team" ended its 100 Day Wellness Challenge on May 1st with 192 pounds lost and 761 hours of physical activity recorded.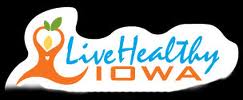 The Dream Team is comprised of 10 Iowans and a team captain who served as role models of health and wellness during the course of the Challenge. The Dream Team celebrated their accomplishments at a final Dream Team Day May 5th in Ames, with Live Healthy Iowa staff members.
The day consisted of health screenings, measurements, team bonding, awards and a luncheon. Nichole Crane of Nevada was awarded 'Outstanding Weight Loss Achievement' for leading the team in weight loss with 41 pounds lost. Sandy Booker of Greenfield was awarded 'Outstanding Physical Activity Achievement' for leading the team in the activity division with 136 hours of physical activity. "
In southwest Iowa, ,embers of the Dream Team include: Natalie Karas, of Oakland, and Sandy Booker, of Greenfield. The team captain of the Dream Team is Stephanie Broders, an ACE-Certified Personal Trainer, from Ames. The Dream Team will also be participating in Burst Your Thirst, a Live Healthy Iowa challenge focusing on hydration and physical activity from June 18th-July 30yh, 2012. Registration is open at www.livehealthyiowa.org.