Cass Co. Sheriff to be honored, Thursday
May 30th, 2012 by Ric Hanson
Cass County Sheriff Darby McClaren will receive a certificate Thursday morning at the Courthouse in Atlantic, in honor of his nomination for the prestigious 2012 Secretary of Defense Employer Support Freedom Award.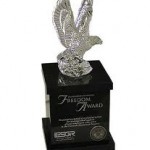 The certificate will be presented at 11:30 a.m.  Thursday, May 31st, at the Sheriff's Office, by Jerry Hansen, chairman of the Employer Support of the Guard and Reserve (ESGR) agency for our area. 
The Freedom Award is the Department of Defense's highest recognition given to employers for exceptional support of Guard and Reserve employees.  A review board comprised of military and civilian leaders has received 3,236 nominations received earlier this year from Guard and Reserve service members, or family members acting on their behalf. Only 160 employers have received the Freedom Award since it was established in 1996. Employers named as finalists for the award distinguish themselves not only for adhering to the employment and reemployment rights of Guard and Reserve members, but for actively creating opportunities to assist and support the service of both Guard and Reserve employees and their families. 
Everyone isl invited to the event honoring Sheriff McClaren, for his support of our military.