Atlantic receives another "Tree City USA" award
May 3rd, 2012 by Ric Hanson
Local "Trees Forever" President Dolly Bergman presented City of Atlantic Officials with materials related to the recent awarding to the City of a "Tree City USA" award. It's the 17th year Atlantic has been honored with the award.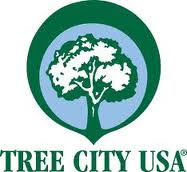 The local "Trees Forever" organization has been in existence for 20-years. Bergman said receiving the award is something the City tries to do each year. She said they local group was presented with its award on April 17th, in Des Moines. 
In order to receive the award, there are four requirements which must be met. There needs to be a Tree Board or Department within a city, a city must have a "Tree Care Ordinance," the Community Forestry Program must have an annual budget of at least $2 per capita. Bergman says for 2011, Atlantic exceeded that by spending $19, 162. The expenditures went for tree plantings, community forestry (that includes pruning and/or tree removals), and all of the volunteer time, which was calculated at $16 per hour for every active volunteer. The only other requirement is for the City to have an Arbor Day observance and proclamation, which Atlantic approved for both last year and the current year. 
Bergman said in addition to the Tree City USA award, the City may be eligible to apply for a "Growth Award," partly due to the tree trimming efforts that have been made downtown, the number of trees planted at the Schildberg Quarry Recreation Area, and the everyday maintenance being undertaken to keep the community green and beautiful.