Crime Victims' Rights Week Luncheon planned in Pott. Co.
April 12th, 2012 by Ric Hanson
The Pottawattamie County Attorney's Office is inviting the public to attend the 4th Judicial District Department of Correctional Services' "Crime Victims' Rights Week" luncheon, on April 25th.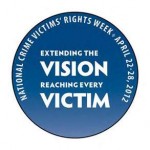 The event, which is sponsored by the Pottawattamie County Board of Supervisors, takes place at the Council Bluffs Country Club (4500 Piute St.), beginning with a buffet lunch at 11:30-a.m.
A program, featuring keynote speakers Jennifer Eaton-Bertagnolli and Micky Oldham, runs from Noon until 1:15-p.m.  Eaton-Bertagnolli is a co-founder of "The Ken Eaton Foundation," along with Dr. Rico Bertagnolli. The foundation was created in memory of Jennifer's father Ken Eaton, who was murdered in an anti-gay hate crime in Des Moines, on Feb. 13th, 1988.
Oldham is a survivor of the Von Maur shooting in Omaha. The incident happened December 5th, 2007, at the Westroads Mall. A sole gunman identified as 19-year old Robert A. Hawkins entered the store. He killed eight people and injured five others before killing himself. Oldham will answer questions about the incident, and sign copies of her book "35 Minutes and Counting," after her presentation.
There is no cost to attend the event, but reservations are necessary. To reserve your place at the luncheon and program, call Jen Foltz at 712-325-4943, extension 203, or e-mail jen.foltz@iowa.gov.