Shelby County EMA offers Advanced Class for firefighters
February 7th, 2012 by Ric Hanson
Shelby County Emergency Management Coordinator Jason Wickizer says a course for experienced firefighters and other personnel exposed to fire, heat or toxic atmospheres, is being offered in Defiance next month. The Advanced Breathing Apparatus Course is designed to provide experienced fire service personnel with advanced knowledge and skills development involving the use of self-contained breathing apparatus (SCBA), for the purpose of increasing the chance of survival, in an emergency situation.
Wickizer says a Mobile Breathing Apparatus Trailer (MBAT)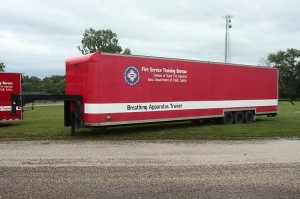 will be in Defiance from March 5th through the 17th. Among the topics to be covered during the ABA Class are: fire fighter deaths and injuries; respiratory hazards; maintenance of SCBA; limitations of SCBA's; tight space maneuvering, and, emergency survival techniques.
For more information, or to schedule a time, call Jason Wickizer at 712-755-2124 or e-mail jwickizer@shco.org.