Mid American Energy Announces New IA Wind Projects
January 6th, 2012 by Ric Hanson
Officials with Mid American Energy Company today (Friday), announced the development of new wind projects in Iowa, totaling 407.1-megawatts. Among the projects, is a signed agreement with Clipper Windpower Development Company, for the acquisition of both the 200.1-megawatt Eclipse wind project, located in Adair County.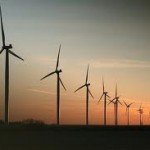 The projects, which also include those in Marshall and Tama Counties, a combined 176 turbines, will be complete by the end of 2012. An additional 2.3-megawatt wind turbine will also be added to the Rollings Hills wind project this year.
In December 2010, MidAmerican announced it would add 593.4-megawatts of new wind-powered generation in Iowa. The projects included the 443.9-megawatt Rolling Hills wind project, located in Adair, Adams and Cass Counties. The final portion of the 593.4-megawatt expansion was placed in-service at the end of 2011.
The company's other wind projects are located in several western Iowa counties, including Carroll, Crawford, and Pottawattamie. They total 1,284.3-megawatts of wind generation. When the 2012 wind projects are complete, MidAmerican will own 2,284.8-megawatts of wind generation, with about 29% of its total generation capacity powered by wind. By the time the 2012 projects are completed, the company will have invested about 4-billion dollars in those projects.