Fill the Feeder for the Swans and Soiree with the Swans…
December 29th, 2011 by Ric Hanson
The Cass County Conservation Service has teamed up with a local store to help feed the Trumpeter swans at the Schildberg Quarry Recreational Area, in Atlantic.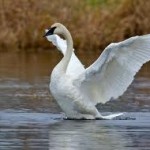 Officials say when you buy a bag of Whole Cleaned Corn at the Atlantic Orscheln store at the cash registers, the store's staff will set it aside for the Trumpeter Swans. Four bags will fill the swans' feeder. Your opportunity to buy the corn for the large-winged birds is available now through Jan. 31st, 2012. And, don't forget, you can join the Cass County Conservation Staff at Atlantic's  Schildberg Quarry on Saturday, January 7th 2012, when staffers will be giving ten-minute presentations about the Trumpeter Swans every half-hour beginning at 11:00 a.m., with the last one being presented at 2:00 p.m.  
The Schildberg Quarry is located on the northwest edge of Atlantic, on the north side of Highway 83. If the weather is bad, or the swans are not at the quarry, the program will be held at the Atlantic Public Library from 12:00 p.m.-1:00 p.m., with a light lunch available. The "Soiree with the Swans" event is sponsored by the Cass County Conservation Board, the Iowa Department of Natural Resources, and the Atlantic Public Library.