Stuart man arrested on multiple drug charges and escape from custody
November 7th, 2011 by Ric Hanson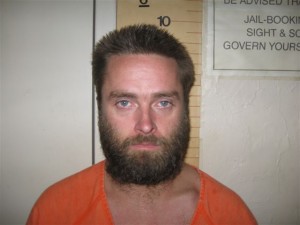 The Adair County Sheriff's office reports a Stuart man was arrested Friday on multiple drug charges, following the execution of search warrants at two separate residences in Adair County. Officials say 35-year old Thomas Lee Caldwell, of Stuart, was charged with: Manufacturing methamphetamine; Possession of Lithium as a precursor; Possession of anhydrous ammonia as a precursor; Possession of pseudoephedrine as a precursor; Manufacturing marijuana; Possession of Meth & Possession of Drug Paraphernalia.
Caldwell was taken into custody, but escaped Saturday afternoon. Officials say at around 12:45-p.m., Adair County's three inmates were allowed out of their cell to shower and exercise. While in a chain link, fenced-in exercise area attached to the south side of the jail, Caldwell climbed the fence and was somehow able to make his way through the 12-foot high "ceiling" portion of the fence. He fled the area on foot before stealing a 1992 Chevy pickup parked in the 200-block of East Iowa Street, in Greenfield.
Caldwell was captured about 75-minutes later near his residence in the 1800 block of Sheldon Avenue in Adair County. The pickup was recovered near his residence, in a wooded area. Caldwell was being held in the Adair County Jail on $125,000 bond for the drug charges, and on Escape from Custody and Theft of a Motor vehicle charges.  The investigation into his drug activities continues, and additional arrests are expected.
Saturday's escape from the 108-year old jail in Greenfield was the second in six-years. During the afternoon of January 25th, 2005, 31-year old Nick LeRoy Briner escaped an outside exercise area at the jail. Briner freed himself by wrenching loose part of a chain-link fence and separated the wire at the bottom of fence. He stole two pickup trucks and was eventually arrested in Missouri.
His escape prompted the county to seek voter approval for a new jail and Public Safety Center to replace the facility currently in existence.  A 2.8-million dollar bond referendum was approved by voters in Adair County in May 2010. When complete, the new jail will house the Sheriff's and Greenfield Police Department offices, and a new E-9-1-1 dispatch center. The facility is expected to open in January 2012.