Pay Tribute to Veterans by Giving Blood this Veterans Day Weekend
November 10th, 2011 by Ric Hanson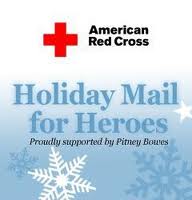 The American Red Cross is asking people to roll up their sleeves and give blood or platelets this Veterans Day weekend to honor those who have served their country. Officials say at the same time, anyone who comes to donate will have the opportunity to sign a card and include a personal message that will become part of the annual American Red Cross Holiday Mail for Heroes campaign. 
The Red Cross and Pitney Bowes have joined together for Holiday Mail for Heroes, a program through which people can sign holiday cards for members of the U.S. military, veterans and their families. Pitney Bowes will then screen the cards for hazardous materials, and the Red Cross will sort and deliver them to military installations, veterans medical facilities and other locations during the holidays.
Tricia Quinn, CEO of the Red Cross Midwest Blood Services Region, says "By giving blood this Veterans Day weekend, donors can pay tribute to those who serve this country. Quinn says the blood drives will "Give donors the chance to help hospital patients who need blood, and at the same time, write messages of thanks to veterans and members of the military for their service."
On Friday (Nov. 11th) an American Red Cross Blood Drive will be held in Cass County, from 8:30-a.m. until 2:30-p.m., at the Griswold High School. If you'd like to donate, simply call 1-800-RED CROSS (1-800-733-2767) or visit redcrossblood.org to make an appointment, or for more information.
All blood types are needed to ensure a reliable supply for patients. A blood donor card or driver's license, or two other forms of identification are required at check-in. Individuals who are 17 years of age (16 with parental permission in some states), weigh at least 110 pounds and are in generally good health may be eligible to donate blood. High school students and other donors 18 years of age and younger also have to meet certain height and weight requirements.