Scenic byway sign installation wrapping up in western IA
October 11th, 2011 by Ric Hanson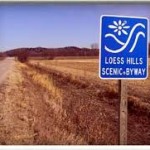 The Iowa Department of Transportation (DOT) said Monday, crews are completing the installation of signs for the Lincoln Highway Heritage Byway and the Loess Hills National Scenic Byway in the Council Bluffs and Pottawattamie County area. Thanks to grant funds made available through the Federal Highway Administration, the DOT is installing a new sign system for all the Scenic Byways in Iowa. Each of the 11 scenic and heritage byways across the state has a unique logo in a similar framework easily identifiable as an Iowa byway. The images are on reflective signs, with directional information added at decision points for the traveler.
The Loess Hills National Scenic Byway signs are now being installed in our area. The Loess Hills were named one of Iowa's Scenic Byways in 1998 and received National Scenic Byway recognition in 2000 by the U.S. Department of Transportation. The Loess Hills National Scenic Byway stretches along the western edge of Iowa through Fremont, Mills, Pottawattamie, Harrison, Monona, Woodbury, and Plymouth Counties. The Loess Hills National Scenic Byway also goes down Broadway in Council Bluffs, from highway 6 to 7th street. The public is invited to an unveiling of the Loess Hills National Scenic Byway signs on October 13th, at 4-p.m., in the offices of the Council Bluffs Area Chamber of Commerce, in the renovated Hughes-Iron Historic Building, at 149 West Broadway.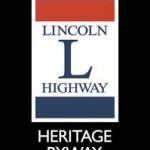 The new Lincoln Highway Heritage Byway signs have been in place for a short time. They feature a distinctive "L" on a red, white, and blue background. The Lincoln Highway Association was created in 1913 in Detroit, Michigan. The first transcontinental highway, Old Lincoln Highway was officially 3,389 miles long from New York City to San Francisco. In Pottawattamie County, the road goes down county road L20, North Broadway in Council Bluffs, continuing on West Broadway towards Dodge Street in Omaha over the Missouri River.