Deadline is approaching to enter America's Farmers Grow Communities contest
October 25th, 2011 by Ric Hanson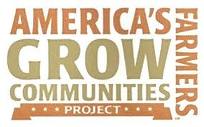 A reminder to area crop producers interested in helping their communities or local youth organizations, that the deadline to enter the annual America's Farmers Grow Communities Program, sponsored by the Monsanto Corporation, is a little over one-month away. Annie Kayser,  Community Outreach Coordinator for Monsanto, says the program was launched in 2010, and has resulted in investments of more than $3-million in local communities across the country during 2011. Every farmer in each of Iowa's 99 counties who has 250-acres or more of corn or soybeans, or 40 acres of open field vegetables, and are 21-years of age or older, can sign-up for the opportunity to win $2,500. The funds will be donated to the winner's choice of local non-profit organizations.
Kayser says there's no purchase necessary to enter, and a purchase will not increase your chances of winning.  She says you don't have to be a customer of Monsanto, either. Kayser says it's all about advocating on behalf of farmers, who know where the funds would benefit their communities. The deadline to enter is November 30th. The winners will be randomly selected by a third party and announced in January, 2012.  The program not only benefits local non-profit groups. Kayser says for every farmer that enters the contest, Monsanto will donate $1 to the nearest United Way chapter. Since the program began, the three top recipients of cash awards have been FFA or 4-H groups, Fire Departments and local libraries. Kayser says in recent years, there's also been a trend toward donating the funds to groups that feed the hungry. Kayser says there's been a big increase in donations to local food pantries.
Among the local non-profit organizations selected in 2010 by winning area farmers to receive a portion of the funds provided by the America's Farmers Grow Communities Program, was: the Massena, Audubon, Brayton, Greenfield, and Shelby Fire Departments; the Shelby County Fair Board, and Coon Rapids-Bayard FFA. Those organizations received their awards this past Spring. Last year's winner in Cass County, was Louis Holste (Hole-stee), who selected the Massena Fire Department as the beneficiary of his $2,500. The funds were used to purchase a tanker truck.
For more information or to register to win, surf the web to www.growcommunities.com, or call 1-877-267-3332.