Central IA man arrested in SW IA storm fraud case
August 22nd, 2011 by Ric Hanson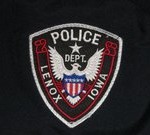 Police in the Taylor County community of Lenox say a central Iowa man was arrested Monday on a warrant associated fraud, and connected to repair work he was contracted to perform following the May 11th tornado that devastated a portion of the town. Officials say 27-year old Joseph Adam Whitehead, of Marshalltown, was arrested on a felony 1st Degree Theft charge, following an ongoing criminal investigation conducted by the Lenox P-D and the fraud division of the Iowa Attorney General's Office.
Whitehead is accused of soliciting work from victims of the May 11th tornado in Lenox, being paid for the work and failing to perform the work. According to Lenox Police Chief Jon Huggins, the charge stems from a single incident in which Whitehead is alleged to have taken $11,000 from a single victim. Chief Huggins said also, that there are at least two known additional people who paid Whitehead for work that was never completed, and additional charges are expected to be filed in those cases as well.
Whitehead is currently being held in the Marion County Jail in Knoxville where he is facing felony theft charges filed by the Pella Police Department. The charges filed in Pella are unrelated to the Lenox charges.
According to Huggins, Whitehead is expected to be held in Marion County until the charges there are resolved and then be brought to Taylor County.