150th ANNIVERSARY OF IANG UNIT TO BE HELD AUG. 8th
August 4th, 2011 by Ric Hanson
The 1st Battalion, 168th Infantry has a storied military history, starting with the Civil War.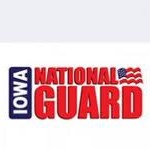 From the early days of the American Civil War, to recent operations in Afghanistan just weeks ago, the 1st Battalion, 168th Infantry, of the Iowa Army National Guard has played a vital role in defending America, since 1861. On August 8th, current and former Soldiers from southwest Iowa who served in the historic unit will gather to celebrate the unit's 150th birthday.
The event takes place at 10 a.m., Monday, August 8th, on the front porch and lawn of the historic Dodge House, 605 3rd Street, in Council Bluffs. The public is welcome to attend the event, which will feature a cake-cutting, along with uniform and equipment displays from both the Civil War, and the unit's most recent campaign in Afghanistan.
The 1st Battalion, 168th Infantry was originally organized into 10 companies, by Col. Grenville Dodge, as the 4th Regiment, Iowa Volunteer Infantry. The were mustered into federal service on August 8th, 1861 at Camp Kirkwood, located just south of what is now Council Bluffs.  They were called to duty to fight in the Civil War, the 1898 Philippine Insurrection, World War 1 and World War 2.
In recent history, the 1st Battalion, 168th Infantry began the first of two Afghanistan deployments after they were ordered into active federal service March 5th, 2004, and released on September 1st, 2005. They were once again deployed to Afghanistan, mobilizing in July 2010 with the 2nd Brigade Combat Team, 34th Infantry Division as part of the Iowa National Guard's largest call-up since World War II. The unit returned home to Iowa last month.
Today, the 1st Battalion, 168th Infantry is comprised of the following units: Headquarters and Headquarters Company, located in Council Bluffs, Johnston, and Spencer; Company A, located in Carroll, Boone, and Storm Lake; Company B, who soldiers report to Shenandoah, Council Bluffs, and Corning; Company C based out of Johnston and Newton; Company D in Denison; and Company F, 334th Brigade Support Battalion, based out of Red Oak and Council Bluffs.