Pott County authorities warn residents about vehicle break-ins
July 10th, 2011 by Ric Hanson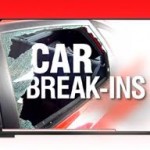 Authorities in Pottawattamie County are warning residents to lock their vehicles and garage doors. They especially want citizens to be on the lookout for suspicious activity around vehicles. The notices comes on the heels of a string of vehicle break-ins which have occurred this month.
Pott County Sheriff's Department spokesman Sgt. Dwayne Richie says nearly two-dozen vehicle break-ins have been reported so far this month. In all but just a couple of instances, the owners left their vehicles unlocked. Richie says the burglars hit neighborhoods on the east and southeast side of Council Bluffs.
He told the Omaha World-Herald "Thieves are going down the block, checking doors and popping the car. If the doors open, they're stealing whatever they can steal," before "Moving on to the next car." In some cases, he says the thieves have entered unlocked garages to access vehicles.
Council Bluffs Police Sgt. Chad Meyers told the paper he hasn't seen an increase in vehicle burglaries, and noted, "Unfortunately, they happen pretty frequently year round." Meyers encouraged residents to report suspicious activity in their neighborhood, no matter how trivial it might seem.
Sgt. Riche asked anyone with information on the recent break-ins to contact the Pottawattamie County Sheriff's Office at 712-890-2200.