More Iowa National Guard soldiers returning home
July 14th, 2011 by Ric Hanson
DES MOINES, Iowa (AP) — Another homecoming ceremony is set for more Iowa National Guard soldiers returning from a yearlong deployment in Afghanistan.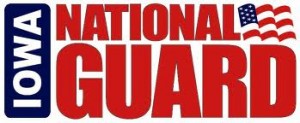 The guard says about 105 soldiers will be welcomed home on Saturday (July 16th),  in the UNI Dome in Cedar Falls. The soldiers are with the Headquarters and Headquarters Company, 1st Battalion of the 133rd Infantry.
Homecoming ceremonies were held on Thursday in Cedar Rapids, Boone and Johnson for 185 soldiers.
Nearly 3,000 Iowa soldiers were sent to Afghanistan last year. It was the largest single deployment of Iowa National Guard troops since World War II.