Iowa CCI to demand Adair County BOS deny CAFO permit
July 11th, 2011 by Ric Hanson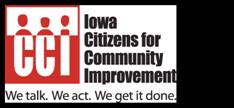 Members of Iowa Citizens for Community Improvement (Iowa CCI) say they will be in attendance at a public hearing this evening in Adair County, to demand the County's Board of Supervisors deny a construction permit for what they say is a proposed Cargill backed hog factory farm.
Eric Taylor is seeking a permit to build a 2,480 head feeder operation in Richland Township, south of Fontanelle.  Members of Adair-Madison County Iowa CCI say they, and neighbors of the proposed large Confined Animal Feeding Operation, or CAFO, oppose construction of the factory farm-because of the environmental and economic damage it will cause to their local rural community.
Auditor Mindy Schaefer told KJAN last Friday, that the public hearing is necessary because the number of animals housed there will be over 1,000. The County will use the Master Matrix scoring method to make it's recommendation to the DNR following the public hearing.
The hearing will last no longer than 90-minutes, with three-minutes allowed per speaker. Sign-up for the hearing begins at 6:30-p.m., in the Courtroom at the Adair County Courthouse. A member of the Board of Supervisors will sign-up speakers on a first-come, first-served basis. Speakers will make their comments in the order they signed-up. Once the meeting begins, no additional speakers will be allowed to sign-up, or speak.
Written comments must be presented to the Board of Supervisors prior to the public hearing at 7-p.m..
Schaefer says only written comments will accompany the Board of Supervisor's recommendation to the DNR, along with the Master Matrix scoring.