Public Invited to Community Design Program Input Session in Atlantic
June 10th, 2011 by Ric Hanson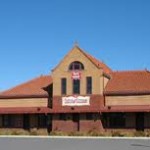 The Atlantic Area Chamber of Commerce is inviting the public to attend a planning session with members of the Iowa Architectural Foundation (IAF) on Friday, June 17th at 4 p.m., at the Historic Rock Island Depot. The Iowa Architectural Foundation is currently facilitating a Community Design Program for the Atlantic area that focuses on the entrance corridors, signage, and directional signage located within the community. 
Ann McCurdy, Executive Director of the Atlantic Area Chamber of Commerce, says they started on this project last year, and saw the results of the program in communities like Avoca. McCurdy says they are "Excited at the opportunity to bring it to Atlantic to address some of our unique challenges."
Initially, the Chamber saw it as a great opportunity to bring in experts to Atlantic to have them look at our entry ways and the lot in question at 7th and Olive. McCurdy says "While we're excited to move forward with plans for 7th and Olive, the Chamber wanted to ensure that we, as a city, were creating a plan for all of Atlantic in terms of signage and design standards." She says they didn't want it to turn into something that just happened "By piecemeal," and working through the Community Design Program gives officials access to experts who can provide a framework and a phased plan of how the project can move forward successfully.
During the session, members of the IAF team will talk with residents about their design preferences as well as hearing first-hand their ideas and reflections about the community. Light refreshments will be available. For planning purposes, the Chamber asks that you RSVP by calling 243-3017.
The Community Design Program assists communities by providing a very open and public decision-making process that brings civic groups, elected officials, and concerned citizens together with design professionals to visualize solutions for community betterment. Founded in 1989, the Iowa Architectural Foundation (IAF) is a charitable organization that promotes awareness and appreciation of architecture and design.