Noise complaint leads to nine drug-related arrests in Red Oak
May 20th, 2011 by Ric Hanson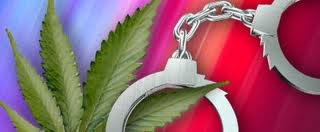 A complaint about noise from a residence in Red Oak early this (Friday) morning, led to the arrest on nine people on drug charges. Red Oak Police report when officers went to speak with the owner of the residence where the noise allegedly came from, a strong smell of marijuana wafted through the air when the front door was opened.
The smell gave authorities probable cause to search the home, and when a search warrant was executed, 40-grams of what a substance suspected to be methamphetamine, as well as a small amount of marijuana, were confiscated as evidence.
Taken into custody on charges of Gathering where a Controlled Substance is used, possessed and/or sponsored, were the following individuals: 31-year-old Peggy Sue Gurney, 26-year-old Natosha Myree Cralley, 23-year-old Amber Rose Pearson, 22-year-old James Dean Inman, and 28-year-old Bradley Edward Williams, all of Red Oak.
Red Oak Police also arrested 20-year-old Michelle Lynn Kaska of Lyman, 41-year-old Dennis Lee Binns of Imogene, and 28-year-old George Allen Westbrook of Villisca.
32-year-old Jonathon Wayne Ray, of Red Oak, was charged with Possession of a Controlled Substance, 2nd offense, as well as G-C-S, a drug tax stamp violation, and possession with intent to deliver over five grams.
All 9 suspects were brought to the Montgomery County Jail, where, with the exception of Ray, were being held on $5,000 bond each. Authorities say Ray was being held on $100,000 bond.