Law Enforcement Seeking Information on Missing Carroll Woman
May 7th, 2011 by Ric Hanson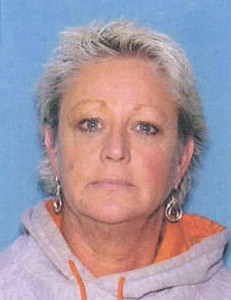 Carroll, IOWA — The Carroll Police Department and Iowa Division of Criminal Investigation are asking the public for help and additional information related to the disappearance of 50 year old Dawn Allen of Carroll, Iowa.
Allen was last seen at her home on Wednesday, May 4, 2011 at approximately 8:30 PM.  Then on May 5th, her employer reported Allen missing to the Carroll Police Department.  On the morning of Thursday, May 5, 2011 Allen's vehicle was recovered in the parking lot of the Piranha Club, located on the east edge of Carroll, Iowa.  No one has seen or heard from Allen since Wednesday night.  At that time she was wearing bright blue knit pants and a multi-colored shirt.  Allen is a 50 year old white female with short, blonde, spiked hair.
Carroll Police Chief Jeff Cayler asks citizens to call-in any information they may have related to Allen's whereabouts, "We'd like to narrow our timeline.  If anyone saw Ms. Allen or talked to her after 8:30 PM on Wednesday, we should know so we can further focus our search efforts."
If you have information related to the whereabouts of Dawn Allen, please call the Carroll Police Department at 712-792-3536.
Dawn Allen is listed on the Iowa Missing Person Information Clearinghouse:
http://www.iowaonline.state.ia.us/mpic/Controller.aspx?cmd=personDetailCommand&id=23842