Grant UMC holds annual dinner
May 17th, 2011 by Ric Hanson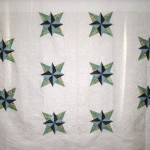 Grant, Ia. –The Grant United Methodist Church will hold its annual Memorial Day Dinner from 11:30 a.m.-1 p.m. on Monday, May 30 with a free-will offering. The menu includes: sloppy joe or ham sandwich, baked beans, assorted salads, pies and desserts, and coffee, tea or lemonade. All money raised by the dinner supports the Grant United Methodist Women and their work for mission projects and the Grant church.
In addition to the dinner, students in Time to Create, the church's after-school program, will have a fundraising sale of homemade snack mix in decorative tins. Proceeds will benefit the program and its mission projects.
The Grant United Methodist Church, founded in 1855, is a multigenerational church focusing on concern for its neighbors and providing a center of worship for all ages. Worship services are celebrated at 9:30 a.m. each Sunday.
GCP sponsors music jam and quilt auction….
Following the church dinner from 1-4 p.m., Grant Community Preservationists (GCP) will sponsor a country-bluegrass jam session in the Grant City Park. Jim and Kathy Wymore of New Market will host the jam session, and interested musicians can sign up at the event. Everyone is welcome to attend.
In addition at about 2:30 p.m., Steve Bergren will auction a full size Circle of Stars quilt on a brocaded white ground. The stars are pieced in patterns of blue and green with snail-patterned quilting. The quilt was made locally and donated by GCP member Jacky Adams.
A concession stand will also be open, serving coffee, iced tea and desserts. Attendees should bring lawn chairs; a porty-potty will be on site. In case of rain, the event will be held at the Grant United Methodist Church. Proceeds from this event will benefit GCP and its work on the Grant Masonic Lodge and Grant Park.
The Grant Community Preservationists was formed to help maintain Grant and its unique historic character. Designated in October 2003, the Grant Commercial Historic District is on the National Register of Historic Places.