Click it or ticket begins
May 23rd, 2011 by Ric Hanson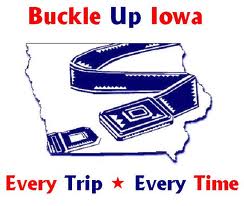 Today (Monday) marks the beginning of a statewide effort to crack down on motorists who are not wearing their seatbelts. The Iowa Department of Public Safety reports Iowa is part of the national "Click it or Ticket" campaign, where law enforcement agencies across the state and country will not only be on the lookout for unbuckled motorists, but those who have defective or missing equipment on their vehicles, and other moving violations.
The campaign runs through June 5th, and will be held day and night. If an officer finds you on the road without your seatbelt on, you can expect a $127 ticket – NOT a warning! There will be no exceptions, and no excuses allowed.
"Click it or Ticket" efforts have resulted in a nearly 25-percent increase in seatbelt usage over the past 13-years. In 1997, only 75-percent of motorists in the state used their seatbelts during the daytime. By 2010, that number had risen to 93-percent.
Statistics from the Iowa DOT "Life Toll" program indicate 6,458 lives have been saved since the state's seat belt law took effect, in July, 1986.