Bridge Painting to restrict traffic flow
May 26th, 2011 by Ric Hanson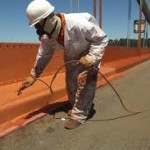 The Iowa Department of Transportation's Council Bluffs construction office says bridge painting work will cause lane restrictions on U-S Highway 6 between Iowa Highway 192 and Interstate 80 near Council Bluffs, beginning Wednesday, June 1st, weather permitting.
Officials say the first phase of the bridge painting will cause traffic on westbound Highway 6 to be restricted to one lane for about 3 weeks. Once complete, the contractor will begin work on the second phase of the project, which will cause traffic on the eastbound Highway 6 bridge to be restricted to one lane.
The entire project is expected to be finished in mid-July, weather permitting.