Today on KJAN.com:
KJAN is streaming live 24/7!  Click the "Listen Live" button at the top right corner!
Take KJAN with you everywhere — Download our

iphone

and

Android

apps today!

Click on the box above or the link to the right to enter the KJAN Big Deals Online Store!  You'll find gift certificates to dozens of local stores at discounted prices!  Keep up with the latest bargains on the

KJAN Big Deals Facebook page

!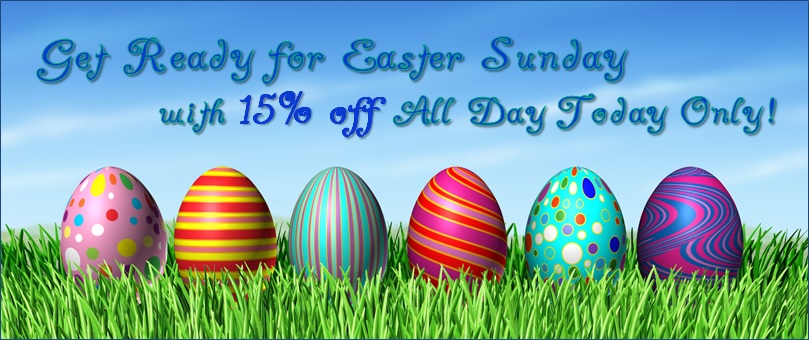 Enjoy some early Easter savings by shopping in our online store with an automatic additional 15% off your order! Hurry in, offer ends at midnight!
===================================================================================================
Announcer wanted
KJAN Radio in Atlantic, Iowa is looking for a new member to join our radio family. This would be a great opportunity for an experienced broadcaster to hone their radio skills or for the newcomer who has all the right tools. The position will require all types of on-air duties, including running a board shift, news, sports (play-by-play ability preferred), and interacting with the public during a live call-in segment. Production duties and a creative mind are also a plus. Knowledge of the Smarts Broadcast system is also helpful. This position will also require work on our website. This is a full-time position with salary and benefits. KJAN is an equal opportunity employer.
Please send applications, including letter, resume and examples of your work to:
KJAN Radio, PO Box 389, Atlantic, IA 50022 or e-mail to kjan@metc.net.
===================================================================================================
CLICK HERE to sign-up for the Cass County Wireless Emergency Notification System (WENS).
 CLICK HERE to see video shot by Jerry Hayes of Atlantic during the Cass County Honor Flight to Washington DC June 16-17, 2014.
Shelby County Fire Danger

"

Moderate

" through March 30th (updated 3/26)

: You are asked to call in and report your burning projects to dispatch at 712-755-2124, and notify your local Fire Chief. Timing for burns should be morning, or evening hours and extinguished by dark unless authorized by Fire Chief due to possible impacts to roads and health from smoke. Burns must be monitored at all times.
In local, southwest Iowa and regional News: Clarinda MHI begins transferring mentally ill senior citizens to private nursing homes; 2 Atlantic men arrested on drug charges, Wednesday; 3 arrests over the past week, in Harlan; NE man injured in Mills County collision Thu. morning; Semi rolls into a ditch near Underwood Thu. morning; Villisca woman hurt in Red Oak collision; 7 middle school students from Treynor honored for their efforts to keep others safe following a school bus accident; Boil water advisory in Tabor; Google addresses concerns over fill dirt issue for its Bluffs data center; New Cass County 9-1-1 Center is up and running…and much, much more!
In SPORTS – Area High School sports news; Iowa and Iowa State Football & Basketball News; Kansas City Chiefs football and St. Louis Cardinals baseball News…and more!.
Check out the Podcasts page or our Programs pages to hear shows you may have missed!
If you are having trouble viewing the new KJAN.com site or using all of the features you may need to update your browser.  Try these sites to update
Internet Explorer
or
Firefox
.


Visit our sister station: