Sidney's Janice Shanno 2023 golf recipient of IGHSAU Golden Plaque Award
May 25th, 2023 by Chris Parks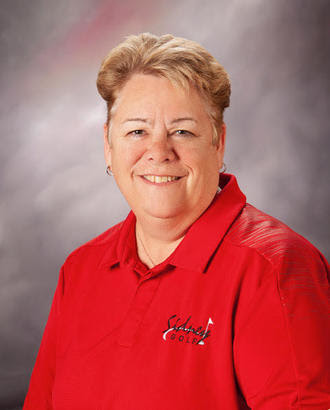 Sidney golf coach Janice Shanno is the 2023 golf recipient of the Iowa Girls High School Athletic Union's Golden Plaque of Distinction Award. Shanno will be honored before the start of the Class 1A State Golf Tournament.
The IGHSAU Golden Plaque of Distinction Award honors the Iowa coach who has demonstrated a successful career while making notable contributions toward school, community and the coaching profession.
Shanno has taught at the Sidney Community Schools for 36 years, and currently teaches junior high math, physical education and high school computer science. She has been an instrumental part of the girls' athletic program where she has coached volleyball, basketball, track, softball and golf. She helped start the Cowgirls' golf program in 1991 and became the head coach in 1997. In 2015 she helped establish the Corner Conference golf tournament and has led her team to five of the last seven conference titles.
Shanno has also served on the IGHSAU's Golf Advisory Committee.