Wind Advisories posted for the area
March 16th, 2023 by Ric Hanson
Crawford-Carroll-Audubon-Guthrie-Dallas-Cass-Adair-Madison-Adams-Union-Taylor-Ringgold Counties...WIND ADVISORY IN EFFECT FROM 4 PM THIS AFTERNOON TO 4 AM CDT
FRIDAY…Northwest winds 20 to 30 mph with gusts up to 50 mph are expected. Harrison-Shelby-Pottawattamie-Mills-Montgomery-Fremont-Page Counties……WIND ADVISORY IN EFFECT FROM 1 PM THIS AFTERNOON TO 1 AM CDT FRIDAY…for expected Northwest winds 25 to 35 mph with gusts up to 45 mph.
* IMPACTS…Gusty winds could blow around unsecured objects. Tree limbs could be blown down and a few power outages may result.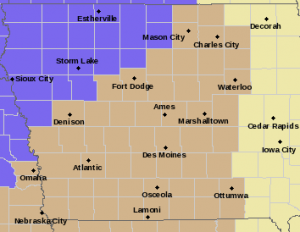 * ADDITIONAL DETAILS…Low visibility in falling snow may briefly occur in the advisory area this afternoon and evening as the rain changes to snow in central to eastern and southeast Iowa.
PRECAUTIONARY/PREPAREDNESS ACTIONS…
Use extra caution when driving, especially if operating a high
profile vehicle. Secure outdoor objects.