WEEK OF JANUARY 2, 2023
January 4th, 2023 by Jim Field
FOR SALE:  Dewalt 90,000 BTU kerosene heater.  Dual power, can be run on 110v outlet or 20v battery.  Great heat source for a power outage.  Brand new still in unopened box.  Asking $375.  Call or text 712-254-3673.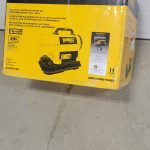 FOR RENT:  commercial office space in Atlantic, about 1,400 square feet with 3 offices and 2 bathrooms.  Available now at $600/month.  Call 712-249-0900.
WANTED:  An old Volkswagen van from the 1950's or 1960's in any condition.  Offering a cash reward of $500 if your tip leads to a purchase.  Call 620-910-7257.
FOR SALE: Sound bar. Small speakers detach from end of sound bar. $50 firm.  For more information call 712-249-7699
FOR SALE: 12 complete puzzles. 300 and 750 pcs. $2 each for single puzzle boxes, $5 for 4 puzzle box. SOLD  Also 6 9inch Pyrex pie plates…asking $3 each. Call 515-523-1350. Located in Stuart. Will deliver to Atlantic.
FOR SALE:  An add-on furnace for $1,100.  A fireplace for $100.  2-cycle, 1200- watt portable generator, new in box for $90.   Call 712-355-1566.