Dense Fog Advisory until 10 AM today for some area counties (1/24/23)
January 24th, 2023 by Ric Hanson
Guthrie-Dallas-Adair-Madison-Union Counties
549 AM CST Tue Jan 24 2023
…DENSE FOG ADVISORY IN EFFECT UNTIL 10 AM CST THIS MORNING…
* WHAT…Visibility less than one half mile in dense fog.
* IMPACTS…Hazardous driving conditions due to low visibility.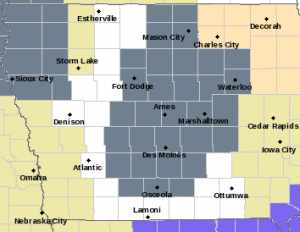 * ADDITIONAL DETAILS…Below freezing temperatures may lead to the deposition of ice on roads and and bridges leading to slick spots. Drive with extra caution.
PRECAUTIONARY/PREPAREDNESS ACTIONS…
If driving, slow down, use your headlights, and leave plenty of distance ahead of you.