Atlantic Archery tops home tournament this past weekend
January 25th, 2023 by Chris Parks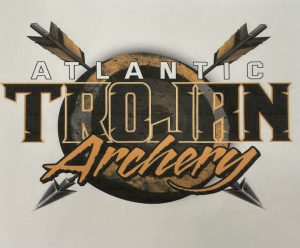 The Atlantic Archery team had a strong performance at their home tournament this past Saturday. The Trojans won the High School Bullseye Division with 3,319 points and won the High School 3D Division with 1,667 points.
Two Atlantic archers were top-ten finishers on the boys side. Connor Johnson was 2nd with 287 and Hank Roberts was 7th with 283.
Four girls were top-ten finishers for the Trojans. Lily Johnson was runner-up with 281, she tied Lexi Henry of Creston but lost the top spot on criteria. Mariah Hadley was 3rd (280), Quincy Sorensen fourth (279), and Halle Copeland was 8th (271).
In the 3D scoring Conner Johnson won the boys division with 284 points and Halle Copeland won the girls title with a 280 score for the Trojans. Another boys top finisher was Hank Roberts  in 3rd (281). Lilly Johnson was runner-up on the girls side in 3D as well with a 277 score. Mariah Hadley was 7th (266) and Quincy Sorensen 8th (263).
The Atlantic Middle School also swept the two tournaments with a 1,583 total in 3D and 3,097 score in Bullseye. In 3D Grant Petty was runner-up with a 268, Jacoby Wood 3rd with 267, Michael Hocamp 5th with 264 and Wyatt Hoover 10th with 256. Lily Wilrich won the middle school girls 3D with a 268. Rylan Martin was 3rd with a 260.
In Bullseye Henry Roland was 7th and Jacoby Wood 8th, both with 269 scores. Rylan Martin was 8th in the girls bullseye with a 265 and Wilrich was 10th with 262.
High School Bullseye
Atlantic 3,319
Valley 3,314
Diagonal 3,208
Creston 3,193
Orient-Macksburg 2,949
Christian Home Educators (Warren Co.) 2,843
High School 3D
Atlantic 1,667
Valley 1,659
Creston 1,557
Nodaway Valley 1,384