WEEK OF SEPTEMBER 5, 2022
September 5th, 2022 by Jim Field
FOR SALE:  Ultralite Trike 2-seat airplane with parachute, asking $16,000.  New Holland skid loader, diesel with super boom, asking $16,000.  Can-AM Spyder motorcycle with just 900 miles, asking $11,000 OBO or would consider trade.  Call 712-355-1566.
FOR SALE:  Vintage Ashton-Drake Galleries The Little Drummer Boy Doll. Porcelain. Motion and Music. Head and arms move to the music. 13" tall. St. Nicholas doll carrying birdhouse. Approx. 25" tall. Nice condition. $25 for the pair. Call or text 712-254-3990.
FOR SALE:  Atlantic Community School District will have furniture available at a free-will donation pricing system on a first come first serve basis. We will have open viewing times Wednesday September 14th, Saturday September 17th and Wednesday September 21st.  All furniture is at the Achievement Center Building on SW 7th. Viewing times: Wednesdays: 8am-3pm, Saturday: 8am-12pm.  Appointments to view the available furniture outside of these dates and times can be arranged with Russel Peck by calling: 712-243-4281.
FOR SALE:  Chrysler LeBaron convertible with 100,000 miles and an Astrovan that needs a motor for $800 and up.  Recreation room equipment, including foosball table, hockey table and hot tub with new parts for $200, will also throw in a steamer chair.  Appliances including a 3-door refrigerator, built in stove and double ovens starting at $45 and up.  Call 712-355-1566.
FOR SALE: Bathroom vanity. Comes with sink, faucets, everything needed to hook it up for use. $25.  Call 712-254-0837
FOR SALE: Set of 4 pickup tires with a spare. 265/75/R15's on aluminum 5-bolt rims. Less than 3,000 miles on them. $300. Also have firewood for sale…split and stacked. Call 712-296-3654.
FOR SALE:  in mint condition a beautiful Eclipse Firepit table.  Great for the fall and one's deck.  Includes the owner's manual. Includes the never used lava rock.  Dimensions are 43 inches long x 25 ½ inches in height and 2 feet wide.  Never been used and looks like brand new.  Please note the propane bottle is not included with the firepit table.  Price $100.  Please call Red Oak, IA (712) 370-0874.  SOLD!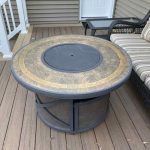 FOR SALE:   in mint condition a beautiful wood entertainment center.  Great for a flat screen television set.  The dimensions are 19 inches wide x 47 ½ inches long and 2 feet in height.  Looks like brand new.  No scratches.  Price $200. Please call Red Oak, IA (712) 370-0874.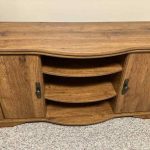 WANTED: DeWalt battery powered chain saw 12″ or 16″. Call 712-249-2087
FOR SALE: 3 gates, one is 8 feet, 2 are 12 feet long. 12 T Posts for $3 each. 20 plus hog panels for $20 each. Or make an offer on everything. For more information, call 712-249-8225
WANTED:  a vehicle for under $1,000.  Call 712-249-9132.
FOR SALE:  Dark brown Leather Sofa, great condition, smoke/pet free home, 84" long, $300.  Located near Exira.  712-249-5117.  SOLD!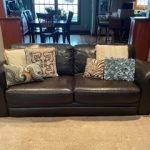 FOR SALE: Lazy Boy recliner in good condition. $25. Call 712-784-2167.
FOR SALE:  New Zealand Rabbits for $10, some small, some mature.  Bucks and Does.  Located in Stanton.  Call 712-789-2577.
FOR SALE:  2 Adventureland tickets for $35 each.  And, a new crop of peaches, call to find out more.  712-789-9385.
FOR SALE:  A Caterpillar antique 2-man road grader, asking $500 OBO.  Call 712-355-1566.
FOR SALE:  5 HP roto tiller, runs great, $100.  Call 712-254-0837.
FOR SALE:  Inogen One G5 portable oxygen concentrator with 2 batteries, 1 charger and carrying case.  Weighs about 2 1/2 pounds.  Asking $1,000.  Call 712-249-5503 in Kimballton. SOLD
FOR SALE:  Greatest story ever told figurines, would like 20$ each or make offer, call 712-249-0324.
FOR SALE:  A full size bed frame.  All you need is a mattress, no box springs needed.  Pretty much brand new.  Asking $40 for it. (Firm) I'm in Atlantic. Contact # is 712-249-7699.