Craig Alan Becker will continue running career at Tennessee
August 5th, 2022 by Chris Parks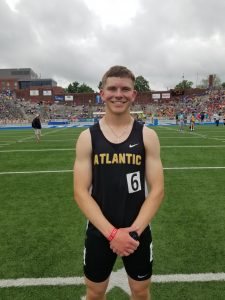 Former Atlantic standout trackster and cross country runner Craig Alan Becker is transferring from UNI to Tennessee to continue his collegiate running career. Becker spent the past year at UNI but he said after conferring with coaches, family, and friends he felt like he wanted to find another fit for him.
After taking 7th in state cross country and running on a winning a 4x800M team in high school he has enjoyed the challenge of training at the next level.
Once he had decided to look for new opportunities it just happened to work out with finding a spot at Tennessee. The Volunteers had some coaching staff changes and he reached out to an incoming coach he knew of and the relationship grew from there.
He said he's open to running whatever events the staff ends up feeling like is the best spot for him.
Becker said he heads to Knoxville soon and is looking forward to training with the other runners there and prepping for some winter meet opportunities to start off with.