WEEK OF MAY 16, 2022
May 16th, 2022 by Jim Field
WANTED: Someone to roto till 1200 sq ft. 712-249-0773.
FOR SALE: Antique wringer washer $200; 25-30 pcs of log siding, paid $40 new each, would like $20 each; 3 point post driver $300. 712-355-1566. (Council Bluffs)
WANTED:  a large inside metal dog crate.  Call 712-243-5047.
FOR SALE:  Westinghouse 50 gallon water heater, still in the box, for $800.  A wood burning stove that's still in the crate for $800.  John Deere manure spreader for $500.  Call 712-355-1566 in Council Bluffs.
WANTED: A pitchfork, any size. Call 712-243-4701.
FOR SALE:  McCullough Eager Beaver weed wacker with straight shaft, works fine, asking $75.  A heavy duty load binder, asking $50.  Call 712-304-4998 in Hamlin.
FOR SALE:  Antique road grader, $600.  New Holland skid loader with superboom, turbo diesel, 55 HP, asking $16,000.  Ultralite two-passenger airplane, trike, comes with parachute, $16,000. Call 712-355-1566 in Council Bluffs.
FOR SALE:  Ariens rear tine tiller $300. 712-250-1005.  SOLD!
FOR SALE:  6″ Diameter oak tree slice coasters, great for weddings graduation, special occasions.  Call 712-249-9242 leave message.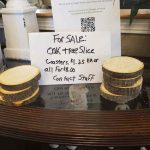 FOR SALE:  Painted potato plow, $200.00 or best offer.  Call 712-250-0655.
FOR SALE:  A pair of zero turn mowers, a Zoom that is three years old and a John Deere, asking $700 each.  Lots of retaining block for $.50 and up.  A New Holland skid loader, 55 horsepower turbo with super boom, asking $16,000.  Call 712-355-1566 in Council Bluffs.
FOR SALE:  Ford GT 85 lawn tractor with 60 inch deck 18 hp Kohler motor, hydro trans with high/lo 1,360 hrs, new battery.  $425 obo.  712-249-0685 Atlantic.  SOLD!
FOR SALE:  7 four inch diameter oak coasters. Handmade, $10 for all 7 of them.  Call Tim at 712-249-9242 leave message.
FOR SALE:  A REAL TREASURE!  1954 IH Original Super C tractor with a 12 V. system.  Good tin & rubber.  $3000 cash.  712-254-3265 Located in Anita.
FOR SALE:  2003 HONDA VTX MOTORCYCLE, 1800 CC, only 13,195 miles, new battery, shaft drive, cobra pipes, highway pegs, large saddle bags, a rack on the back, large windshield, 3 storage pouches, nice comfortable seat with a back rest for the passenger, good tires. Always been in garage and Is in excellent condition and ready for a rider!!!!!  $4,100 (Cash only).  Call or text 701-240-8190 (In Atlantic, Iowa)  SOLD!
FOR SALE: Hitachi miter saw stand, brand new, still in box, never used. $150. 701-240-8190.
FOR SALE: 1993 Dodge Ram D150 half ton pickup.  Regular cab, long box.  318 engine, fuel injected, automatic transmission.  2 wheel drive.  145,000 mile. A little body rust.  Needs left side leaf spring and rear brake work.  Driven all winter and spring as is.. Heat and A/C works. $800. 712-789-0685. Text preferred or call.  SOLD!