Atlantic Area Chamber Ambassadors Celebrate with Cass Health
January 14th, 2022 by Ric Hanson
(Atlantic, Iowa/Chamber News) – The Atlantic Chamber Ambassadors were hosted by Beth Speaker and members of the Cass Health Auxiliary on Thursday, January 13th, 2022. The Ambassadors joined Cass Health in celebrating the opening of their newly renovated gift shop.
Cass Health has had a gift shop for many years but with the renovations, the appearance and location have changed with visitors and the community in mind. The gift shop is more visible as it is now located right inside the entrance of the medical center, connected to the Sweet Joy Coffee Shop. Beth Speaker, Cass Health Communications Relation Manager, shared that much thought went into including community shoppers during the planning & renovating process. Beth shared that during the month of December there were many community members that shopped for Christmas and the staff was delighted to be another retail option for local shopping.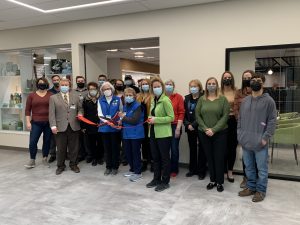 The Cass Health Gift Shop carries a variety of gift items such as baby essentials, home décor, clothing, candy, seasonal items and flower arrangements. The flower arrangements are replenished daily, thanks to Ann Johnk of Farmhouse and Flowers. The gift shop is staffed and maintained entirely by the Cass Health Auxiliary that is comprised of over 100 members. The auxiliary staff welcomes shoppers to call and shop by phone and items can be delivered directly to a loved one's room in the hospital.
The Cass Health Gift Shop is located in the atrium of Cass Health and is open Monday -Friday 9AM-5PM. For more information or to arrange a delivery, call the direct line at 712-250-8821.