Drought conditions in Iowa continue to worsen again
September 17th, 2021 by Ric Hanson
(DES MOINES, Iowa) – The latest report from the
U.S. Drought Monitor
shows drought conditions worsening slightly in Iowa once again. The report, released Thursday, shows areas of severe and moderate drought are unchanged, but abnormally dry areas now account for 77% of the state, up from 69% a week ago. Only 22% of the state is considered to have normal soil moisture, down from 30% last week.
In the KJAN listening area, there's not much change in the number of counties affected by "Abnormally Dry" conditions.  All of Adair, much of Cass and Montgomery Counties are considered Abnormally Dry, along with portions of Mills, Fremont, Page, Audubon and Guthrie Counties. Much of Dallas and a section Guthrie County are experiencing Moderate Drought conditions.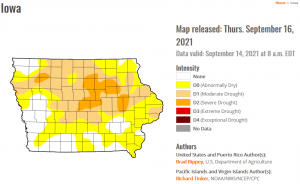 Across the Midwest, short-term dryness has begun to expand across southern and eastern sections of the region, favoring summer crop maturation but reducing topsoil moisture. Meanwhile, long-term drought issues persisted across the upper Midwest, despite some recent rainfall. By September 12, the U.S. Department of Agriculture reported that topsoil moisture was at least one-third very short to short in each Midwestern State except Wisconsin, led by Indiana (47%).