History made as Trojans pick up thrilling extra inning win over Anamosa
July 20th, 2021 by Chris Parks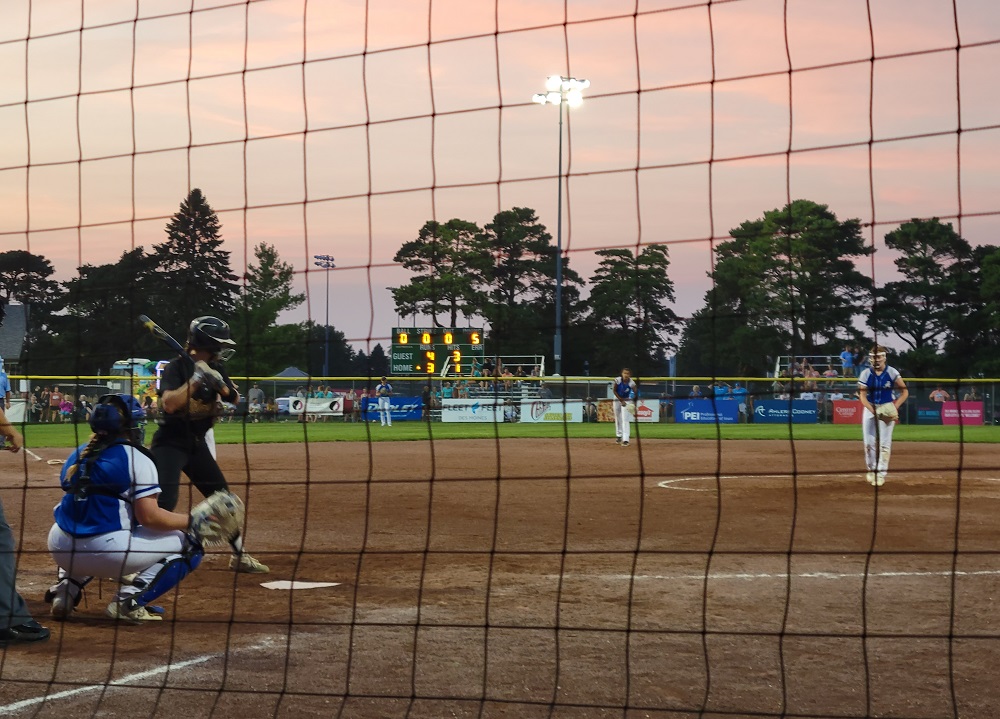 It took 11 innings and over three hours of play, but by the end of Monday night Atlantic softball had made history with a 10-9 win over Anamosa. The Trojans accomplished two new feats for the program; a quarterfinal round win, and 34 wins in a season. A wild back and forth affair ended on a RBI single from Jada Jensen to send Atlantic to the Semifinals on Wednesday against Assumption.
Anamosa got on top first with a run scored from the first batter Emily Watters. Atlantic climbed in front in the 4th, with help from four walks and a hit batter given up by Watters in the circle. Anamosa answered with three of their own in the top of the 5th, taking advantage of a couple walks and an error from the Trojans. Atlantic grabbed a run in the 6th to tie the game at 4. Anamosa plated a run in the top of the 7th on a well executed Maddy Meeker bunt. The Trojans would respond with Maleana Woodward bunting home a run from Lauren Nicholas. The Trojans left the winning run on 3rd and to extras they went.
No one scored in the 8th and the two squads traded runs in the 9th to keep it rolling at 6-6. Both teams left a runner stranded in the tenth. Then things got a bit wild in the 11th. Anamosa brought home on run on a 2-out double from Emily Watters. They would add two more on a single by catcher Lexi Bright. Atlantic didn't let the three run deficit bring them down. Caroline Pellett reached on an error and Ava Rush earned a walk to start frame. Madison Botos got a base hit to load the bags. A wild pitch brought Caroline Pellett home to cut the deficit to 2. Maleana Woodward then earned the 12th walk of the night from Emily Watters to fill the bases back up. Alyssa Derby then stepped to the plate sporting an 0-4 night so far. She came through with a 2RBI single to tie the game back up at 9. Derby said she took a different approach at the plate that at bat.
The next two batters were put out for the Trojans, leaving runners at second and third with two outs. Jada Jensen then ripped the first pitch she saw up the middle to bring home courtesy runner Madison Huddleson for the winning run. Derby said the team had the right mindset heading into that last half inning.
Atlantic Head Coach Terry Hinzmann was extremely proud of the attitude and leadership that got them through a wild game.
The Trojans will play in their first ever state softball semifinal on Wednesday afternoon against Davenport Assumption. The Knights advanced with an 11-1 win over Clarke in 6 innings. That semifinal game Wednesday will be a 3:00 p.m. first pitch. We'll have coverage on KJAN starting at 2:00 p.m.