WEEK OF JUNE 14, 2021
June 14th, 2021 by Jim Field
FOR SALE: 13 inch GE TV and Living room couch $20.00 each. Call 712-249-7733.
WANTED:  Looking to buy a 32″ or 47″ flat screen TV w/remote. Could also use some help setting it up and would pay for the assistance.  Call 712-243-2860.
FOR SALE: 13x2in walnut tree slices. $10 each or $15 for both. Call Tim at 712 2499242 leave message
FOR SALE: Fresh chicken broilers. 579-1981
GARAGE SALE: 804 E. Mahogany St., Atlantic. Thursday, June 17th 8am-5 pm and Friday, June 18th from 8 am – 5 pm.
YARD SALE: 701 Country St, Walnut Iowa….Friday, June 18th from 8-5, Saturday June, 19th from 8-5. Power tools, water softner, 29″ Kent Flexor Bike, 21 speed, original Ford rims (18 x 7.5), 2 XXL sleeping bags, kitchen aid mixer with additional dough hook, other kitchen items, dining room table, Eureka sweeper, basketball hoop, and much much more!!!! A lot of these and other items are
new, still in box and never used. For more information call: 417-876-7108 between 8am-8pm. (Kimballton area). Terms of payment: Cash,Money Order, Checks, with proper I.D. & approval, ATM available at Rolling Hills Bank, 300 Antique City Drive
FOR SALE: 2008 Chevy Uplander, a lot of miles but in good condition .$3,500 obo; classic cab over trucks – $7,000-$20,000. 515-360-0519 (Denison, IA)
FOR SALE: Polaris 4 wheeler, 300 hours, like new,1,500 miles, tires and paint are good, never used to haul farm items. Make reasonable offer. 515-710-3254.
FOR SALE: Entertainment center with a heated fireplace for sale. Holds up to a 65 in TV. Has got some scuff marks on it but that's how it was when I got it. It is used and used before me. But does have lots of life left in it. Has remote. Contact phone 712-249-7699. SOLD!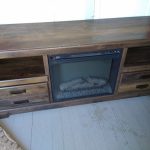 FOR SALE: Cabinet trio. $150 ….. 4- chairs in very good condition. $190. For more information please call 712-249-2823
FOR SALE: A nice Dog kennel,  Size: 4 1/2 X 6 1/4 ft. Want $50.00 Call: 712-764-5591  If no answer, Leave Message. Elk Horn, Ia.
FOR SALE: 5 Sumic (brand) tires, size 205/55-R-16. Less than 4,000 miles on them. Best Offer. Call 712-420-3016.
WANTED: Looking for a 32″ or 47″ flat screen TV. Would also like some assistance in setting it up and will pay for assistance. 712-243-2860
FOR SALE:  Poulan 20″ push mower, 4 HP Briggs & Stratton motor, adjustable wheels, runs good $125; Heavy duty load binder with hooks, adjustable ratchet straps.  Asking $50.  Call 712-304-4998 in Hamlin.
FOR SALE:  Brown Lift Chair, Small – used only 2 ½ months – $650.  Brown Recliner – very good shape – $100.  LP Cook Stove – $50. SOLD!  Call or text 712-249-9275.