Derek Hall hired to be new Atlantic boys basketball head coach
June 10th, 2021 by Chris Parks
(updated) The Atlantic School Board, Wednesday evening, approved the hiring of the next boys head basketball coach.
That's Atlantic School District Superintendent Steve Barber. Derek Hall takes over the position from Jeff Ebling, who recently resigned to take the head coaching position at Indianola High School. Hall was an All-State basketball player at Denison High School, where he graduated in 2013. Hall went on to play college football at Morningside College. He was hired by the Atlantic School District the year of his graduation.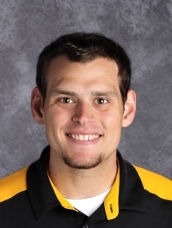 Hall teaches 6th grade science at the Atlantic Middle School. His immediate family lives in Harlan where his sister Ashley just graduated and his brother Aidan is entering his junior year. He also has another brother Luke that has graduated college.