WEEK OF MAY 24, 2021
May 24th, 2021 by Jim Field
GARAGE SALE: Multi- Family Garage Sale at 902 Linda Drive, Atlantic. May 28th from 8 am to 3 pm and May 29th from 8am to 3 pm. Dog items, solid oak table with 2 benches, kids toys and new  kids' clothes (12 – 18 months boys and girls), home decor, and lots of misc. The sale you have been waiting for!!!
FOR ADOPTION: Kittens. Call 712-579-1981.
FOR SALE: 4 year old white 40 gallon gas Bradford water heater – $300. Call Jay at 712-307-2193
FOR SALE: 17×2 inch walnut tree slices. $20 each. Call Tim at 712 249 9242, leave a message and he'll get back to you ASAP.
GARAGE SALE: 804 E. Mahogany St., Atlantic. May 28th from 8 am – 6 pm and May 29th from 8 am – noon. Books, clothes, plants, craft items and lots of misc.
FOR SALE:  Large orange tent with two rooms and two doors. Only used once. Asking $40. Please call 712-251-9949.
FREE: Hostas, can be picked up at 6 E. 13th St. in Atlantic
FOR SALE: Men's dress slacks, 10 pairs in sizes 42×30, and 1 pair of blue jeans 42×30, all in excellent condition; 28 mens adjustable farm caps;2 mens overhalls – 1 size 46 and 1 size 48 (would fit men in size 42×30), Big Mack and Dickies brands. 712-243-7706.
FOR SALE: King size memory foam mattress pad with very little use. 4 inches thick. $75. Call 712-249-5063.
FOR SALE: Patio Umbrella. 8ft tall, excellent condition.  $20  712-250-0266.  SOLD!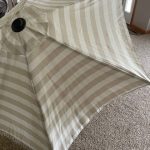 FOR SALE: Lawn Boy riding lawnmower. 8HP and 30″ cut. $350. Call 712-254-3878.
WANTED: Natural gas cook stove. Call 712-254-3878.
WANTED:  Looking to buy a 32″ or 47″ flat screen TV w/remote. Could also use some help setting it up and would pay for the assistance.  Call 712-243-2860.
FOR SALE: Cub cadet rear tine tiller, large one, runs, like brand new – $400 SOLD! ; an older Ariens riding mower runs, needs some work – $250. SOLD! 243-4914
FOR SALE:  Dining chairs, updated with professionally reupholstered seats. Good sturdy construction. $150 for the set. 712-249-3548. SOLD!