Midwest Derecho places third in 2020 National Disaster costs
January 8th, 2021 by Ric Hanson
Officials with the National Weather Service report the August, 2020 derecho which heavily impacted Iowa and four other Midwestern states, was only outdone by Hurricane Laura and the collective Western Wildfires in terms of estimated cost.The data compiled by NOAA (the National Oceanic and Atmospheric Administration), shows the Derecho racked-up $11 Billion in damage. The August 10th event began in southeast South Dakota and swept through to Ohio – a 770 mile trip – in a span of just 14 hours, with widespread wind gusts greater than 100 miles per hour. Four people died as a result of the weather phenomenon.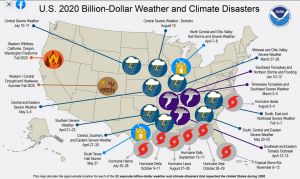 Iowa, Illinois, Minnesota, Indiana and Ohio were the states most affected by the event that caused millions of dollars damage to acres of corn and soybeans across central Iowa. There was also severe damage to homes, businesses and vehicles, particularly in Cedar Rapids. In addition, there were 15 tornadoes across northeastern Illinois, affecting the Chicago metropolitan area. Officials say it was the third severe weather event (since 1980) with inflation-adjusted costs over $10-billion, joining the late-April and May 2011 tornado outbreaks across the Southeastern and Central states, respectively.
The number one weather event, in terms of cost, was the August-27th/28th impact of a Category 4 Hurricane named "Laura," which hit southwest Louisiana with winds of up to 150 mph and a storm surge of more than 15 feet. It was the strongest hurricane to hit Louisiana since 1856, and cost $19-billion.The Weather Service said 46 people died during the event.  The second costliest weather event, was the Western Wildfires affecting California, Oregon and Washington State. A total of 46 people died. Colorado also had historic levels of fire damage. The flames raged across more than 10.2-million acres from August 1st through December 30th, costing an estimated $16.5-billion in damage.
Number four on the list, was Hurricane Sally, a CAT 2 hurricane taking place from Sept. 15th to 17th, and which made landfall in Gulf Shores, Alabama. Altogether it caused an estimated $7.3-billion damage, and resulted in five persons dead.