WEEK OF DECEMBER 28, 2020
December 28th, 2020 by Jim Field
WANTED: Looking for a used Acetylene cutting torch. Call 712-769-2387.
WANTED: 2- 28ft. extension ladders. Call 712-243-2860 in Atlantic.
FOR SALE: Yale 1 1/2 ton ratchet hoist – $50. 712-243-4914.
FOR SALE: Restored 1936 John Deere "A" tractor. Has new decals, belt, paint, tires and runs good. $3,500. Call (in Atlantic) 712-210-2259.
FOR SALE:  1 year old Luverne deer guard. The deer grill guard was on a 2019 Colorado Pick Up LT package.  The deer grill guard model number is 341513 and mount package is 341510. This deer grill guard will fit 2015-2020 Colorado Pick Ups.  Price is $300 and looks like new. We will talk on price.  Also I have for sale a nice-looking office chair.  Great for a home office.  Price to sell for $20.  Please contact 712-370-0874 in Red Oak.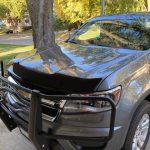 FOR SALE:  52" Hunter ceiling fan with remote. Fan is white with reversible blades, tan on one side and white an the other. Asking $75.00 call Andy at 712-782-3444 or 712-782-3179 or 712-579-5109.
FOR SALE:  Sears single-stage snow blower, 5 HP, 21″ cut, works great.  Asking $150 (reduced!).  Calls only to 712-249-6835.  SOLD!
FOR SALE:  a 22 inch Snapper snow blower. Gas does not need to be mixed with oil.  Asking $200 or best offer. Call 712-250-4801 in Atlantic.
LOST:  a small Teacup Yorkie (3 lbs.) near the water tower on 22nd Street in Atlantic.  He answers to the name "Harley."  If anyone may have seen him or taken him in, please call 712-789-0932.
FOR SALE:  Toro snow blower with a 20 snow cut, 5 hp electric start..oil and gas mix.  Call 712-243-4132.  SOLD!
FOR SALE (PRICE REDUCED to sell!): Turbo charged 2005 Mazda, modified car with open hood, 5 speed, 4 cylinder, running lights in front, won 2nd place at AtlanticFest last year, only selling because no garage to keep it in, currently in a friends garage in Atlantic so has been kept dry. $5000 Firm. 651-376-8696.
LOST: A brand new pair of prescription glasses. They have a mauve or pink frame. Possibly in the area of Cappel's, Wal-Mart or Hy-Vee, in Atlantic (although the lady has checked with their customer service departments). If you found them and picked them up, please call 250-0434.
FOR SALE:  107 Cub Cadet with front snow blade (no mower deck), tire chains and extra set of rear tires and wheels.  Needs a battery.  Asking $250.  Also, a Pride electric wheel chair, model Jet 2 in good condition.  Asking $300.  And, Case VAC tractor with new front tires and live hydraulics, asking $500.  All items in Kimballton.  Call 402-689-4157.
FOR SALE:  Black Whirlpool Microwave, 1.6 cubic ft., 1200 watt cooking power.  Good condition, everything works.  Selling as wife wanted a white one.  Delivery possible in towns around Kimballton, including Atlantic.  $40.00.  417-876-7108 (No text, please)
WANTED:  Small snow blower for sidewalk or patio, single stage, not self propelled. Call or text 712-249-0500.
FREE: Cast iron porcelain kitchen sink, double sink, very heavy. Call 712-778-2488