WEEK OF DECEMBER 14, 2020
December 14th, 2020 by admin
FOR SALE: Yale 1 1/2 ton chain hoist, ratchet type. $50. 712-243-4914.
WANTED: A good used light card table. Call 712-249-7090.
FOR SALE:  Office desk 3 foot by 6 foot, 3 drawers on left side and 2 drawers on right side.  $20.00.  Call 712-243-4196.  SOLD!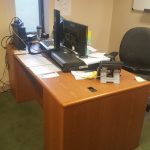 FOR SALE:  large square 3x3x8 horse quality grass hay. Baled dry and stored inside $75.  I also have round grass hay bales from 2019 that were baled dry and stored inside. $60 for the round bales. We are located SE of Hamlin.  If interested call me at 712-304-0178.
FOR SALE:  (new) Carhartt pull over hooded sweatshirt, heavyweight XL fits like XXL, dark green, $35.00. 712-250-1005.
FREE:  4 Drawer Dresser, Very Nice Pink Metal Girls Bed Frame, Twin Size, is $20.00.  Call John at 243-2344.  GONE!
WANTED:  Electric clothes dryer older style.  Gas space heater for living room or kitchen.  Clothespin bag.  Call (712) 590-7001.
FOR SALE: 4 sleds. 2 smaller 3 1/2 foot runner sleds. 1 long toboggan. 1 long runner sled. $10-$20 each. Call 712-249-0233.
FOR SALE:  Office desk, as shown in two pictures, black desk with beautiful quartz top. $400. Call 712-249-1994.
FOR SALE: Bird cage on a stand with rollers. The stand is 28 1/4″ tall, from base to top of cage is 35 1/2″, cage is square 20″x34″ with dome top, has ropes, wood perches, bell, mirror. $40. Call 712-774-5840, leave a message
FOR SALE: Full size pickup topper, white, good shape. $75. FOR SALE: Firewood, split, delivered in stock. 712-420-3016.