WEEK OF SEPTEMBER 7, 2020
September 4th, 2020 by Jim Field
FOR SALE: Show Phoenix chickens, 1 rooster and 6 hens, have won purple ribbons $75 for all; other show chickens available call for info,  guinea fowl. 249-9838.
FOR SALE: 3 different wood burning stoves. One is a round, brick-lined unit. Another is a more ornate fancy type with the top section. $100-$300 and willing to talk price. Also still has some free pears left to pick up. Call 712-249-0223.
FOR SALE:  Parker SideKick XP and Plano Bow Case: $220.00.  Pull weight 20lbs-40lbs, Draw 18"-28", String 51", Cable 32 ¾".  New String, Three pin sight, Quiver, New peep sight (comes with old one), New De-Loop (has extra string), New hyper glide slide, Comes with a Youth Allen release, Easton Holder, Plano Protector Compact Bow Case – Black.  Everything that is marked as  "New" was just done 6-28-2018 at Bass Pro.  Feel free to call or text Stacy at 515-720-6168.
FOR SALE: Oval fuel tank with 12 volt pump, 100 gallons. $100; round fuel tank with 12 volt pump, 200 gallons $100. Trailer made out of a Chevy truck bed $100. 323-4890
FOR SALE:  beautiful, like new queen sized very heavy comforter and pillow shams, $15.00.  Phone 712-254-6842.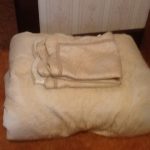 WANTED:  Looking for vintage farm advertising trucker hats, most interested in those with patches and made in the USA. Feel free to text or call 712-249-5455.
FOR SALE:  Hand made designer end/coffee table for sale. $75 each table.  Designer maple and cedar wood end table and plant stand. Hand crafted.$75 each. Call Tim at 712-249-9242.
FOR SALE:  Pair of black 10 1/2 Dicky steel toe work boots. Worn only three times. Regularly $85. Will take $40. Call or text (712) 249-1512.
FOR SALE:  Two blue area rugs.  (1) rectangular 50" X 20" for $10 and (1) 7'6" round for $25.00 or both for $30.  In excellent condition.  Call 712-254-2811 in Atlantic.  SOLD!
WANTED: 2 axle car trailer. 712-579-2291 in Atlantic.
FOR SALE: Very nice collection of 239 Ken Griffey Jr. baseball cards in 3 ring binder, box of Wheaties with Ken Griffey Jr. when he traded to Cincinnati, over 2,200 misc. baseball, football, basketball cards. $20. 249-5063. SOLD!
FOR SALE: XL Iowa State jacket, red & yellow quilted, never worn. $5. 243-2860.
FOR SALE: Wood stove pellets, 67 bags, $3.75 each. 243-2301.
FOR SALE:  Jack Reacher DVD. Stars Tom Cruise. Very Good Condition.  $5.00.  Call 243-2344.